Are you involved in a 365 photo project this year? For the first time, we're giving it a try. We've both vowed to carry our cameras with us everywhere and to become better acquainted with them in the process. Plus, what a fun photojournal of our year we'll compile!
The popular 365 project is the concept of capturing a photo of your life every single day, for an entire year. Committing to the enormity of the project is a big part of the fun. It's difficult to imagine what you'll be photographing 9, or even 6 months from now! We're off to a running start. I can't say we'll be faithful to this every single day of 2012. But we're sure going to give it our best shot!
Mom's Week One Photos:
Once you've compiled your photos, you can make them into fun mosaics, calendars or even posters at bighugelabs
Sources of 365 Inspiration: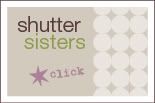 We plan to share our favorites with you here from time to time.
If you've always wanted to improve your photography, come click along!